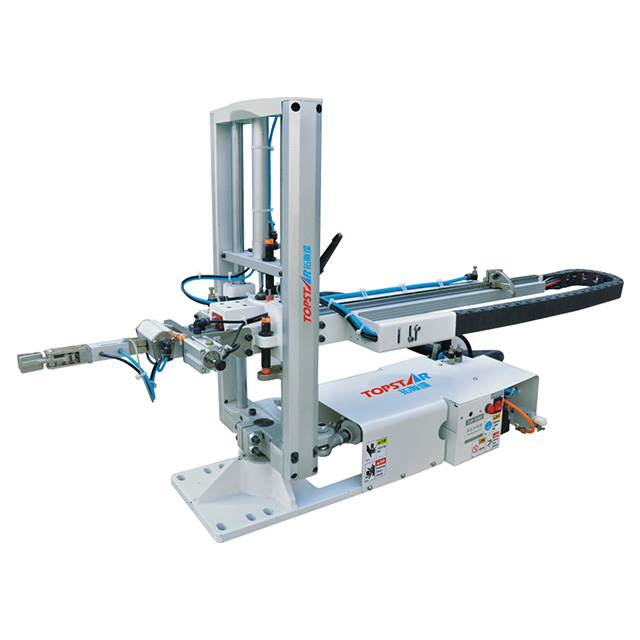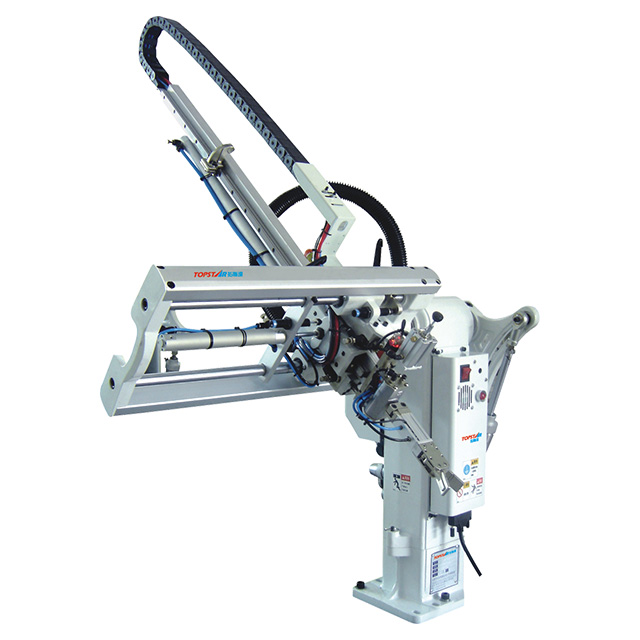 Etensively applied to horizontal / vertical plastic injection machines ranging from 50T~ 250T which can rapid take out the runners, runner and finished products from the mold of plastic injection molding machines, and place runners or runner into beside-the-press granulator for recycling immediately.
There are two types of arms-single stage and telescopic. The vertical stroke for single stage is 550mm and for telescopic is 650mm.
This series equipped with wrist rotation mechanism and gripper sensor can rotate products with 90°.
Structural Units
Employed high strength & tension aluminum alloy to work with precise linear guide way, features with light weight, wear resistance, long service life.
Wrist Rotation Mechanism
The arm front section for installing gripper can rotate 90°; absorbs & gripper jig can be installed with sensor device for detecting to get products or not.
Safety Protection
External signal interlock with injection molding machine to have double safety protection for molds to ensure no locking molds if parts are not taken out via the signal confirmation of finished product removal.
Control System
Palm controller, friendly operation interface, easy operation.
Feature
Function Feature
X axis can rotate 90° which is for changing molds conveniently, equipped with hydraulic shock absorber for making forward & backward stroke more stable and smooth.
Y axis is equipped with device to avoid pneumatic cylinder falling;
Z axis can be adjusted angle from 45°~90° for placing finished parts by different direction according to requirement ( to place parts at the operate side or non-operate side of injection molding machines).
Model Feature
X-650 are mainly used for removal of runner or finished products independently; also can be used for removal of runner and finished products from 2 plate mold simultaneously.
X-650PR are mainly used for removal of runner & runner and finished products from 3 plate mold simultaneously and any arm can be used independently for remove finished parts or runner.
L-550 are extensively applied to vertical injection molding machines, can be used for removal of runner, with fully auto operation.