TTO Series Oil Type Mould Temperature Controllers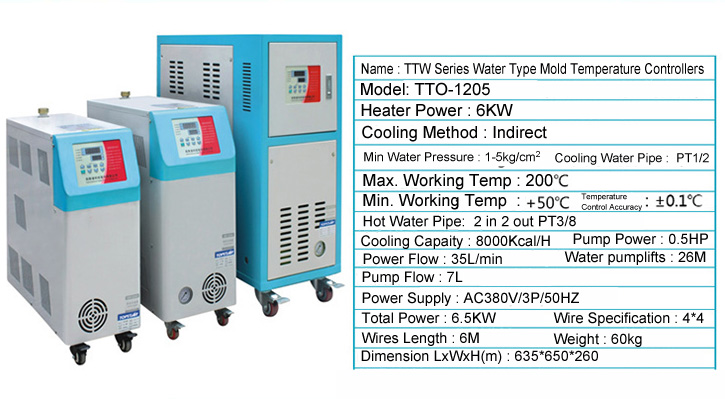 Description:
Oil Type Mould Temperature Controllers use water as heating media to realize heat exchange by indirect cooling for standard temperature control can reach 200 degrees while high temperature can reach 300 degrees. Oil type has its superiorities with wide temperature controlled range and excellent heat stability.
Features
Electronic control panel and machine body are isolated to acquire good effectson heat insulation in order to extend the service life of electrical components.
P.I.D multi-stage temperature control system can save power up to 35% thanks to control temperature accurately & reasonably.
Perfect safety protection and error indication display which are easy maintained and repaired ,even without professionals can do it.
Imported hi-class parts with long service life.
Rapid heating and cool down speeds lead temperature to be kept precisely and stably with accuracy up to ±0.1.
Unique heating design are suitable to different temperature control application with excellent & distinct power saving.
304 stainless steel integrated pipelines with less pipe resistance and even heating for long service life
Automatic air-exhausting function after startup.
Air blowing and return oil function.